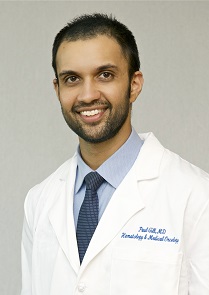 Harpaul (Paul) Gill, MD
Location Availability
Hospital Affiliation
Northside Hospital, Northside-Forsyth Hospital, and Northside Cherokee Hospital
Harpaul "Paul" Gill, MD is a hematologist and medical oncologist that specializes in treating patients with lung cancer, melanoma, genitourinary cancer, lymphoma and benign hematology. Through his fellowship training at Emory University, he had the opportunity serve a broad patient population and gain valuable experience in training not just the medical aspects of cancer care, but the social and psychological aspects as well. As such, Dr. Gill's mission as a physician is to coordinate his patients care with an empathetic mindset. Understanding that a cancer diagnosis can be difficult for both the patient and their families or caregivers, Dr. Gill strives to provide clarity and support to both parties through effective communication. He focuses on educating patients about their diagnosis and treatment options, even in the most complex cases, so they feel confident in their decisions and actively engaged in their care.
Credentials
Board Certified:  Internal Medicine, Medical Oncology and Hematology
Education & Training
Fellowship: Hematology & Medical Oncology, Winship Cancer Institute at Emory University, Atlanta, GA
Residency: Internal Medicine, Emory University School of Medicine, Atlanta, GA
Medical School: Mercer University School of Medicine, Macon, GA
Undergraduate Education: Microbiology, University of Georgia, Athens, GA
Research & Clinical Trials
Northside Hospital researchers and Atlanta Cancer Care physicians work alongside respected industry partners and nationally recognized clinical trial networks to provide you with access to the latest treatments and prevention methods being tested through clinical trials.
Professional Memberships
American Society of Clinical Oncology
American Society of Hematology
Publications
Dr. Gill has several publications, with his most recent concerning Toxicities of systemic agents in squamous cell carcinoma of the head and neck; a new prospective in the era of immunotherapy.
Clinical Interests
Lung Cancer, Melanoma, Genitourinary Cancer, Lymphoma, Benign Hematology